All guests who present themselves are
to be welcomed as Christ, who said:
"I was a stranger and you welcomed me."
Rule of Benedict 53:1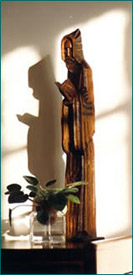 We welcome you to the web site of the Benedictine Sisters of Baltimore, a community of monastic women who follow the Rule of Benedict. Through our prayer, Liturgy of the Hours, and a variety of ministries, we endeavor to bring the richness of a 1500 year tradition into today's world. Sharing a common life at Emmanuel Monastery, we welcome all who seek God.
Seeking workers in a multitude of people, God calls out and says: "Is there anyone here who yearns for life and desires to see good days?" If your answer is "I do"…
(RB Prologue)
…then journey through our website!
NEW PRIORESS AND
LEADERSHIP TEAM ELECTED
See full article in NEWS and EVENTS sectio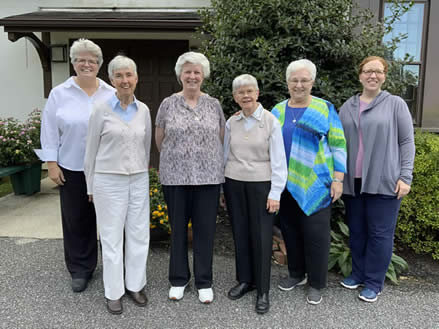 L to R: Sisters Lynn McKenzie (Federation President), Tricia Kirk, Pat Phillips, Kathy White, Kathy McNany (Prioress-elect), Kim Porter (Facilitator)